Since starting at DrugBank in 2019, I've been lucky to grow and see my own success within the team. While I can go on about the combination of employee perks and fringe benefits that are bonuses to working here, it only touches on the material advantages of being a team member. What I'm focusing on are factors you can't put a price on, the reasons that make me say that even if I won the lottery, I would continue working here. Let's get into some of my notable mentions of why I like working at DrugBank and won't be leaving anytime soon!
Celebrate your weird
When a new member joins our team, we encourage them to share their hobbies and passions because it might ignite a great conversation or spark someone's interest to try something new. We're invested in each other's interests, passions, and extracurriculars both professionally and personally. If you're interested in plants, we have a crew who will applaud your announcement of a new leaf your plant produced. For those interested in joining in on a Dungeons & Dragons campaign, we have a group that goes on a new adventure every other week that's sure to liven up your weeknights. Maybe you love being outdoors no matter the weather; you guessed it, there's a group who could talk your ear off about a new trail they enjoy. If you're an avid marathoner, we'll follow you on the Boston Marathon live map and cheer you on! We love learning about each other and showing our support so you can fully express yourself to come just as you are to work every day.
You're heard and valued
Respect rings throughout the company day in and day out. From my first day, I was encouraged to speak up if any processes felt sticky without the fear of being criticized. After seeing my suggestions implemented, I knew my ideas would always be heard and my opinions respected. Regardless of background, our whole team is comfortable asking questions without the concern of being shut down. By fostering a place where everyone's opinions are valued, DrugBank has opened up a wealth of ideas that only betters the company. As team members, we benefit from the openness by learning about topics that others are specialists in which helps us better understand the company and how it functions holistically.
Explore your options
I started on the team as the Administrative Assistant and have grown into an Operations Specialist role. DrugBank recognizes the unique skill sets we all bring and supports us to dream big through professional development. We all have the opportunity to take courses, share our knowledge, and apply for positions internally. If a job posting aligns with your desired career path, it's encouraged that you apply to it. Your manager is always available to have open discussions about where you want to grow. They will candidly let you know if that move is feasible for you now or how to work towards it for your future. Depending on what growth and success mean to you, you have the opportunity to advance into a new role or take on a new project with added responsibility.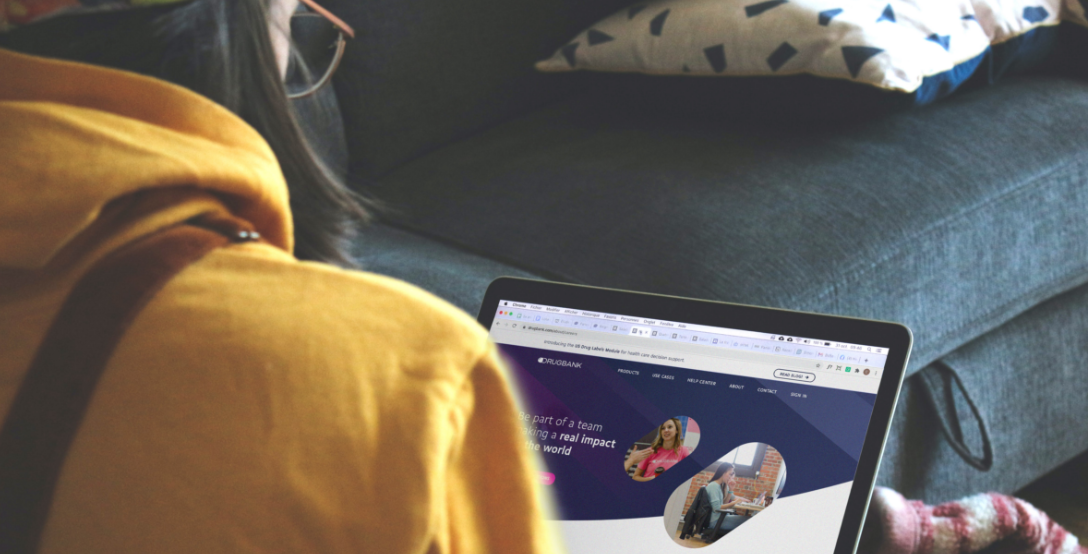 Flexibility that would make a gymnast envious
We're online during standard office hours, but not everyone operates the same; we all have individual home lives. Working from home during a pandemic also opens up a new can of possibilities for what might distract you. Some days I can't focus on a project the same way I did the day before, or I might wake up feeling overwhelmed. With how flexible our workdays are, I have the autonomy to take a mental health day or go for a walk in the middle of the day to get my brain thinking differently. This allows me to be more present for meetings when I showcase my ideas, feel more productive in my tasks, and show up with an attitude I'm proud of.
Along with how highly I choose to speak of the company, I also wanted to include some quotes about what working here looks like to a few of my team members. One of our Biocurators said, "I get paid to learn new things and indulge my curiosity with an amazing team. I don't think there's a better deal out there." And a member of our admin team said, "Every morning, I get excited to wake up and work in a fun, supportive, and inclusive environment! It's a pleasure to be a part of something so monumental."
This goes to show that you can ask anyone here what working at DrugBank means to them, and the answers will vary. I love that we don't all have the same response, and in my eyes, it shows the variety of what motivates every team member to come back each day. The one thing that reigns supreme here is the passion we all have for making the world a better place.